Fair Oaks Historical Society Newsletter
Volume 93 - July, 2010

QUARTERLY POTLUCK GENERAL MEETING
Tuesday, 7/27/10, 6:00 pm


Fair Oaks Community Clubhouse
7997 California Avenue
Please remember to bring a casserole, salad, or dessert to share with others.

---

Website - www.fairoakshistory.org

---

Editor-Publisher: Jim Pearce &nbsp &nbsp &nbsp &nbsp &nbsp &nbsp Circulation: Maria Brugger

---
Presidentís Messageó I hope you will all join us for our next meeting on Tuesday, July 27. Social hour begins at 6 p.m., followed at 6:30 by the best potluck this side of the American River. Merina West, our newest lifetime member will present a pictorial history and narrative of the Straith Houseó the first mansion on the American River in Fair Oaks. It is a beautiful structure that is being relocated and restored as we speak. I was fascinated by this home and its place in early Fair Oaks history; I know you will be too.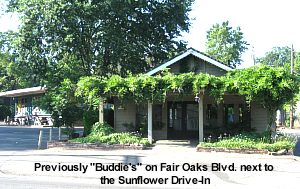 The Fair Oaks Water District recently presented the Society with a great opportunity. The District has purchased for future use a small building at 10340 Fair Oaks Boulevardóimmediately north of their well on Park Drive and just west of Sunflower Natural Food. The building has been offered to the Society for $1/year for approximately ten to fifteen years for use as a History Center.
I have appointed an ad hoc committee chaired by Joe Dobrowolski to examine the requirements, cost and feasibility of accepting this building and operating a more prominent and available History Center. The committee will report its findings and recommendations at a special Society Board meeting on July 26. We will seek the concurrence of our membership for any proposed action at the July 27 general meeting.
Understand that at this time, we continue to have use of the Park Districtís Fireside Room, and have not abandoned our interest in the Old Fair Oaks Library nor our fundraising efforts like the eagerly awaited Fourth Annual Soup Night, which comes up Friday, November 5. Tickets will be available at the General Meeting, so bring your money. Only 200 tickets will be sold. We also need sign ups for volunteer workers.
Another fundraising event I urge you to consider is the New Christy Minstrels Benefit Concert for the Fair Oaks Theater Festivalís Capital Improvement Campaign. If you remember "This Land is Your Land" you remember the New Christy Minstrels. They will perform August 7 in the amphitheater to raise funds for continued improvement of the Veteranís Memorial Amphitheater. Tickets are $20 and the gate opens at 7 p.m. For tickets and information, call 916-961-3683 or visit fairoakstheratrefestival.com.
Goodbye to a dear ladyó Mrs. William N. (June) Melvin was among the visionary people who in 1977 founded the Fair Oaks Historical Society and shepherded it through its early years. June served in many capacities, but personally I appreciated her guidance most when she was my Parliamentarian in the mid-1990s. I was happy to appoint her to that post again when I had the opportunity this year.
It greatly saddened me when I learned that June passed away May 16 following her long battle with cancer. I will miss Juneís dedication to the Society, her eye for detail and protocol, and most of all, her friendship. Kindly, Dick Easterbrook accepted my invitation to fill the post of Parliamentarian.
---
&nbspWebmaster:
What with the cost of postage probably going up again, and the annual expense of about $800 for printing and mailing the newsletter, the Board asked me to explore moving toward an electronic version for those members willing to receive the newsletter that way. We do put most, but not all of the newsletter on the website, but internal affairs (finances, officer rosters, etc.) are not included.
I've considered several options, but the best seems to e-mail the newsletter (PDF format) to members who opt for this method. I've tested it with the officers (pc's and mac's) and it works fine. If you want to sign up, you can either send me an e-mail or sign up at the July 27 General Meeting. If you want to test the system to see if it's right for you, let me know and I'll send you the April newsletter in the new format.
Of course, if you want the regular newsletter in the mail, we'll continue to do that.
---
On August 1, my e-mail provider Quiknet (Surewest) will be discontinuing service for its non-cable providers, so Marilyn and I will be switching to Google Mail (gmail.com) immediately, but will continue to check Quiknet until Aug 1. It sure is a pain to reestablish a new identity and address book, and deal with all the people and companies that have the old address. Please note our new addresses for any e-mails:
jpearce4104@gmail.com
mpearce4104@gmail.com
---

Vice-President's Message:
| | |
| --- | --- |
| Our April program was a tribute to the Fair Oaks Fire Department, past members shown visiting and sharing memories at the meeting. | |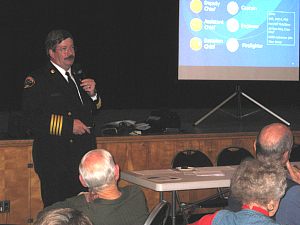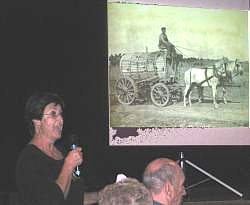 Jim Eastman led off with a program on the Metro Fire Agency followed by a slide show on the history of the Fair Oaks Fire Department. At right, Trudy shows off the first Fair Oaks fire truck.

After that, present and past firemen and/or their relatives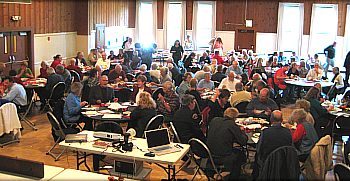 were asked to speak to their personal memories of the Fire Department. This show and tribute really drew a crowd. For more details of the event, see the minutes elsewhere in this newsletter.
---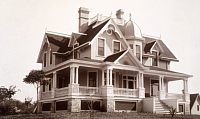 As Ralph mentioned, the July meeting program will feature Merina West, the Societyís newest lifetime member, presenting a pictorial history and narrative of the Straith house, the first mansion on the American River in Fair Oaks, built in 1900. The house has been overgrown and in disrepair for the past 30 years, but has a proud history and is going to be restored.
---

&nbspDocent's Report:
The 1st grade from Earl Legette School toured the History Center on April 29. There were 26 children plus parents and teacher Suzzie Hotton. The Fair Oaks Fest on May 1 and 2 was very well attended. We had 100 people sign our guest book. On July 23 the History Center will be needed by the children's theatre group so we will need several people to monitor our center. If you can help by working a two hour shift, please call me at 967-2967. The hours are 3:00 to 9:30 pm.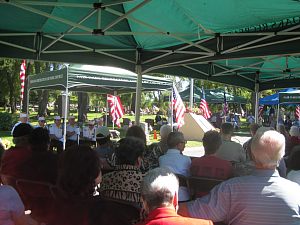 The Memorial Day celebration held on May 29 at the Fair Oaks Cemetery was attended by over 400 people. The Cemetery District Board has acknowledged our participation with a certificate of appreciation. It was noted by the board that all the homemade cookies were outstanding. Many thanks to all who brought cookies.
The following people have been docents or participated in helping in our activities this year. Thank you!!!! Jean Applegate, Lois Frazier, Fran Messinger, Larry & Meg Smart, Cheryl Welch, Jim & Marilyn Pearce, Fran Sargent, Maria & Bob Brugger, Diana Lennon, Ralph & Sherrie Carhart, and Mike Maddox.
The History Center will be open for visitors before the potluck dinner on July 27. Come early and have a look.
---
Soup Night 2010 Update
Tickets will be sold at the July meeting, so start planning your seating arrangements. Remember that the round tables will seat 8 guests. And tickets are still only $25. Like last year, you can reserve tables. We'll also be asking members to sign-up as volunteers for the event so start thinking about how you'd like to help.
Do you have any contacts with wine vendors? If you do, please contact me or Bob & Pat Vogel with that information. And please start asking for donations for Soup Night. Marilyn Pearce and Janet and Warren McWilliams will be coordinating the raffle again this year. So contact them with your donations, soon.
Let's make 2010 our most successful event ever.
Thank you, Claudia 961-8291
---

&nbspSecretary:
Fair Oaks Historical Society General Meeting Minutes, April 27, 2010
The meeting was called to order by President Ralph Carhart following another wonderful potluck. (Some of the raffle was conducted during dinner.) Guests were introduced. We had a lot of guests tonight, hope some of them join. There were several Fire Dept. alumni.
Program: Program chairman Maria Brugger asked all of the members of the Fair Oaks Fire Dept. to introduce themselves. There were many interesting stories along the way. 323 years of service was represented by those here tonight. Jim Eastman of Sacramento Metro Fire started by discussing the Fire District today. The Fair Oaks Fire Dept. history started in 1935, he then went over a timeline of this history. Historical Moment: Maria then asked several members who shared their Fair Oaks Fire Dept. memories. Lyn Steen remembered being in town and seeing all of the Firemen run to the Dept. to fight the fire. Mrytle Sherman talked of her husband Leland Sherman who served as a volunteer fireman, she also shared the social life and all the friendships involved. Bob Brugger talked about the volunteers that he remembered from his youth, many were from the PCA plant. Tim Payne then spoke about his dad, George Payne who was the Fire Chief, the first fire dept. was located at the rear of his service station. Bill Brown Sr. spoke about his volunteer days, he talked about a couple of memorable fires and the fire auxiliary. Maria then read some of the early facts about the early days of the Dept.
Business Meeting:
The minutes of the previous meeting were approved as published in the newsletter.
Treasurerís Report: Treasurer Joe Dobrowolski reported that the Financial report was in the newsletter. The Budget was published in the newsletter. Maria moved that we approve the Budget, Motion seconded by Warren McWilliams. Motion passed.
Past Presidentís Report: Ken Steen reported that the History Consortium has concerns about developers who are enroaching on Historical Land. We need to be aware of these problems that are happening.
Kitchen and Amenities: Warren and Judy Blomquist and their crew were thanked for their serving of dinner.
Newsletter: Ralph announced that Jim Pearce will be the publisher and editor.
History Center: Lois Frazier passed a clipboard around for cookies for the Memorial Day Celebration at the Cemetery. The Center will be open for the Spring Fest.
Soup Night: Claudia Thorn reported that Soup Night will be November 5. We are trying to get as many donations as possible. Centerpieces will be Gazing Balls. More about Soup Night in July. Warren & Janet McWilliams donated $100, asking their donations to be matched.
New Business:
Ralph Carhart discussed some of the changes to the Society committee structure.
George Straith House: Ralph announced that the Board decided to write a letter about the moving of the house. The Zoning Board decided to move the house. The Board did decide that they would be looking at historical properties in the future, so we would be better prepared in the future. This house will be the program for the July meeting.
The next meeting will be July 27th. June 22nd. will be the Board Meeting.
Meeting adjourned at 8:30 p.m. The remainder of the raffle was conducted
Respectfully submitted, Janet McWilliams, Secretary