Fair Oaks Historical Society Newsletter
Volume 89 - July, 2009

QUARTERLY POTLUCK GENERAL MEETING
Tuesday, 7/28/09, 6:00 pm


Fair Oaks Community Clubhouse
7997 California Avenue
Please remember to bring a casserole, salad, or dessert to share with others.

---

Website - www.fairoakshistory.org

---

Editor: Marilyn Pearce
Publisher: Jim Pearce &nbsp &nbsp &nbsp &nbsp &nbsp &nbsp Circulation: Susan Burmaster

---

President's Message—
Ted Robinson, author of Water in My Veins: The Pauper Who Helped Save a President will be the evening's speaker on July 28. (For more information, see our Vice-President's Message below.) Our general meeting starts at 6:00 PM. Come and bring a dish to share at the potluck. Invite potential members as guests and introduce them around.
Remember the Old Fair Oaks Library? We have only a partial picture of what the Old Fair Oaks Library looked like. If you have pictures, drawings or other reference documents, and/or good visual recall of the library facility, please let Jim Pearce know. No decision has been made on availability of the property for our permanent history center. Even so, we want to be prepared with an evaluation to determine what would have to be done to make it usable as a history center.
Soup Night: Keep in mind that our third annual Soup Night fundraiser is on November 6. Tickets will be available at our July 28 meeting at the same cost as last year: $25. for adults and $10. for children 12 and under. New this year, you will be able to reserve a table by purchasing a block of 10 tickets. Get together with friends and neighbors to reserve your seats.
Be a Docent: Your help is needed as a Docent at the History Center. Please see Lois Frazier to sign up for a couple of hours on a Sunday afternoon.
Paid up? If your newsletter contains a self-addressed envelope, it means that our records show your 2009 dues haven't been paid yet. Please continue your membership and support of the Society. Trude Vasquez, Membership, keeps the roster and can answer any questions you may have. She'll be sitting at the Registration Table for our next general meeting on July 28th.

Vice-President's Message:
Program: LCDR Ted Robinson, USNR, XO, PT 118, Ron 6, was a radar officer of the lead boat in the attack, standing next to LT Brandingham, the CO of the entire attack. LCDR Ted Robinson is probably the best still-living person to know what happened that fateful night of August 1-2, 1943 when JFK's boat was rammed by a Japanese destroyer. Ted Robinson will present his story at July's general meeting. Come and enjoy good food, good people, and a unique historical program.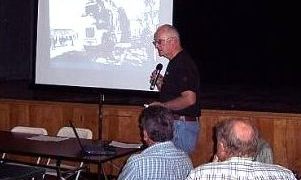 A Recap of April 2008's Program: I would like to take this opportunity to thank members of the "California Automobile Museum" AKA "Towe Auto Museum" for their wonderful presentation. Wayne Saunders presented a slide show and many members attended with their cars. The museum has about 100 events every year. Wayne related the history of the museum, which traces the history of the automobile and how the Towe Museum was started.

Photos - top left: Wayne tells history of Towe Museum. Bottom, from left: Members of the Towe Museum enjoy "Fair Oaks finest pot luck", table decorations were old toy cars. The antique car show out in the parking lot of the Communtiy Center.

If you have an idea or suggestion for a future program topic, please let me know. I want to bring historical topics of interest to all of you. You can call me at (916) 944-4812 or e-mail me at sherrywood1949@ yahoo.com.
&nbspWebmaster:
Researching the home in this edition prompted me to return to the Sacramento Archives. When I visited them in January, 2007 (It doesn't seem that long) I took some trial photos of the old Fair Oaks plot maps with owners of parcels identified. I didn't do all of Fair Oaks, since the lighting wasn't good and neither was my digital camera. Many of the images turned out blurred.
This time I took a new 10 megapixel camera and found the research area had been relocated and had very nice lighting. And, as always, Pat Johnson, Archivist, was very helpful.
So now there is a new section on the website that has a cover map relating to the plot numbers, and all of what was established for Fair Oaks in 1912, 1920, and 1930. The 1920 and 1930 maps are very readable, but the 1912 maps were very brown and pale. Still, with some digital enhancement on the computer, they are also readable.

&nbspSecretary:
Fair Oaks Historical Society General Meeting Minutes, April 28, 2009
The meeting was called to order by President Ken Steen following another wonderful potluck. The members from the California Auto Museum were introduced and guests were introduced.
Program: Wayne Saunders started his presentation by telling us about the name change of the Museum. The museum contains 160 automobiles. The museum has about 100 events every year. Wayne related the history of the museum, which traces the history of the automobile.
Historical Moment: Bob Brugger reminded us of the air raid siren placed on the rock plant property in Fair Oaks in 1943. The base of the siren broke in a storm in 1969 and fell.
Minutes: The minutes of the previous meeting were approved as published in the newsletter. Treasurer's Report: Treasurer Joe Dobrowolski reported that we have app. $36,000 in the accounts.
Past President's Report: Warren McWilliams reported that the Time Capsule Plaque has been placed this past week by Fair Oaks Rotary. He also reported about the Soup Night Auction prizes, we will be using a form for these donations. We will be asking for about 30 items for the silent auction. He also announced that the next Sacramento History Consortium meeting will be June 17.
Kitchen and Amenities: Warren Blomquist thanked everyone for the wonderful food tonight. He also directed our attention to a collection of Rockwell wooden educational toys.
Membership: Trude Vasquez reported that there will be a new board for the badges at the next meeting. She also spoke about Publicity as she will be using community calendars to share our meeting information.
History Center: Lois Frazier asked for docents for the History Center for the Spring Fest this weekend. She also asked for cookies for the Memorial Day celebration on Saturday May 23.
School Project: Janet McWilliams announced that she and committee member Ann Dobek have met at the History Center, to see where the center can match with the California Curriculum Standards. She also announced that the committee would meet in the next few weeks.
Soup Night: Claudia Thorn introduced the Soup Night committee. The committee has been meeting. Claudia also announced that tickets will be on sale at the July meeting.
Family-Life Membership: Warren and Judy Blomquist were accepted for a family life membership. Motion passed. They were presented with their badges and certificates.
The raffle was then held. Meeting adjourned at 8:15 p.m.
Respectfully submitted, Janet McWilliams, Secretary

&nbspDocent's Report: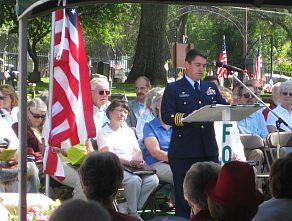 The Memorial Day ceremony at the Fair Oaks Cemetery on May 23 was well attended. This year's special tribute was to "the men and women of the United States Coast Guard." The honored speaker was Capt. James J. 0'Connor. He assumed command of Air Station Sacramento in Aug, 2008. He was previously assigned to the Seventh Coast Guard District in Miami, Florida.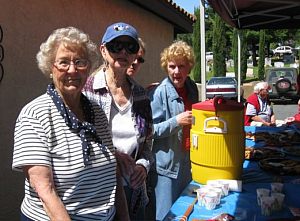 Cookies and lemonade were served by our Historical Society and the Fair Oaks/Orangevale Grange. Many thanks to everyone who furnished the cookies (Everyone looks forward to your cookies!)
A certificate of appreciation has been presented to the Historical Society for their participation in the Memorial Day event from the Cemetery District Board.
The following people have been docents this year: Fran Sargent, Lois Frazier, Jean Applegate, Gordon and Joan Heidt, Meg Smart, Marguerite Goddart, June Melvin, Cheryl Welch, Marilyn and Jim Pearce. Thank you !! If you would like to be a docent please call 967-2967
The History Center is open every 2nd Sunday from 1:00 to 4:00 p.m.

| | |
| --- | --- |
| | |
| Templeton home in 1957 | and in 2009 |
Location: 8464 Sunset Avenue
Architecture: Farmhouse
Built: 1898
Previous Owners:
Henry Becki,1900, Rancher, 200 acres
Twannette Parker, 1910; J.T. Templeton, 1920; both absentee investors
Everett Glafcke, 1921 - 1952, owner-operator of 23 acres raised turkeys
&nbsp &nbsp and chickens until 1952, named the home "Mira Robles". There is a nice article
&nbsp &nbsp on life on the farm by Mrs. Glafcke in the Fair Oaks and San Juan Memories book
&nbsp &nbsp (online on the FOHS website).
Thomas Turnbull, Jr., 1953, probably sold to Mrs. Grace Irving who named it "Lake Haven".
Present Owners: Diane and Ken Templeton (not related to former owner) bought the home in 1987, did a major remodel and moved in Feb. '88. It is .87 acres that originally came with a persimmon and almond tree plus 3 palm trees. They've just celebrated 21 years in the home on Sunset Avenue. You have no doubt passed the house when driving to Miller Park and remember the outstanding annual Christmas decorations which won the Jeanne and Dick Hill Award...back when!
The Templeton's kept the same basic floor plan and saved the front porch, stairs, and door, but made the home bigger. The exterior looks 1898, but the interior is contemporary. They added 2 front bedrooms, enlarged the kitchen and living room which has a "hand-made" river rock fireplace and mantle. Upstairs had 3 bedrooms plus bath and now is one master-bedroom suite. In the re-do, they found much of the old wood, wiring and the walls stuffed with 1950's newspapers for insulation.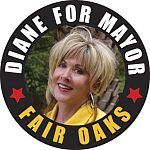 We contacted Diane to do this story last spring. She looked forward to having more information about the history of the home. She sells Jaffra products. She is presently running for Fair Oaks Honorary Mayor. We thank them for the interview and welcome Ken and Diane to our next General Meeting on July 28.