Fair Oaks Historical Society Newsletter
Volume 69
July 2004

QUARTERLY POTLUCK GENERAL MEETING - 7/27/04


Fair Oaks Community Clubhouse
7997 California Avenue
Please remember to bring a casserole, salad, or dessert to share with others.

---

Editors: Susan Burmaster & Marilyn Pearce
Publisher: Jim Pearce

---
President's Message:


Harry Voth, our first President of the Fair Oaks Historical Society, at the January12, 1976, meeting stated "The Society is virtually moribund" (in a dying condition). This could not be further from the truth!

What fun times we have had-- such as the quilt show at our April 27 , 2004 meeting. We were there at the Fair Oaks Fiesta May 1 & 2 thanks to many of our members representing the Fair Oaks Historical Society.

&nbsp
We participated at Fair Oaks Cemetery District May 29, 2004, Veterans Memorial. The Historical representative, Lois Frazier and many of the members were serving refreshments at the close of the memorial service.

Sorry, Harry , "moribund" is not in our vocabulary.

Keep a smile on your face and bring a Neighbor.
| | |
| --- | --- |
| | |
---
Editor's note - Our apologies to the Schwilks for misspelling their name in the printed newsletter - Sue and Marilyn.
---
Vice-President's Message:

Program:
July 2004
Jim Pearce "Fair Oaks Historical Societyís" Web Page
The program for the July 2004 meeting will be on "Fair Oaks Historical Societyís" Web Page. Our guest speaker will be Jim Pearce a member of FOHS. Jim has been working hard at designing FOHSís Web Page. He will share with us how having a Web Page will help to tell the history of Fair Oaks to others.
A Recap of April 2004ís Program:
I would like to thank Catherine Kripta, of Auntie Emís Quilts & Comforts who was our guest speaker. Some of Catherineís areas of special interest are restoration, quilt history, historical provenance, 19th and 20th century quilts. Catherine is very knowledgeable on quilts in history. She was able to help even those who had no interest in quilting to understand and appreciate how quilts can tell history. I would like to thank Catherine for sharing her knowledge and her quilts with us. If you have questions about quilting she can be reached at (916) 483-6432 or e-mail ckypta@surewest.net.
I also would like to thank a number of our members who shared their quilts telling Fair Oaks history and some of their own family history.
1. Steve Abbott: "Blue and White Baby Quilt" made by Dorothy Walker for Steve Abbott in 1939. Two other quilts from Indiana.

2. Nancy Sherman: 1887 Great Grandmother Ozella Furnasí "Quaker Wedding Blanket" her motherís grandmother, quilt was used and loved. A "1940/50ís Rose Quilt" made by Grandmother Ann Bender her fatherís mother for her sonís wedding anniversary.

3. Bobbie Salzman "T-Shirt Quilts" one daughterís and one sonís. T-shirts used from many activities which took place in Fair Oaks. She has made one for each of her four children.

4. Russ and Noni Monroe: Russís Grandmother Helen Monroe from Cheboygan Michigan a "1900 Log Cabin" made of wool used to keep warm. A picture of a woman making a "Broken Star Quilt" by a wagon train.

5. Meg Smart: "Family History Quilt" her husband Larry and children had it made for her on her 80th birthday. The quilt is made of pictures of the family.

6. Sherry Lynn Wood "1960ís Crazy Quilt" owed and loved by Jimmi Wood, my mother. "1900ís Basket Quilt" made by Great-Grandfather William Marshall Scott, on her motherís side, after his heart attack. Williamís doctor prescribed making a quilt before William could return to work (medicinal reasons). "One Inch Squares" made by a friend of the family Mrs. Murphy her Grandma, and Great-grandmother finished in 1970ís.

7. Lois Fraiser: "1932 Sun Bonnet Babies" made in Camp Fire Club to earn a sewing badge. Her leader was Lena Bell Nixon.

8. Carol Baker: "2004 Poppy Quilt" made by Carol and other River City Quilterís Guild members to raffle off at the October 2004 Quilt Show in Sacramento. The monies will be used to make quilts for new-born babies and sick children to give for warmth and comfort.

Thank you everyone. Your participation helped to give the presentation a personal and Fair Oaks touch. If you have an idea or suggestion for a program please let me know. I want to bring historical topics of interest to all of you. I can be reached at (916) 944-4812 or e-mail me at sherrywood1949@comcast.net.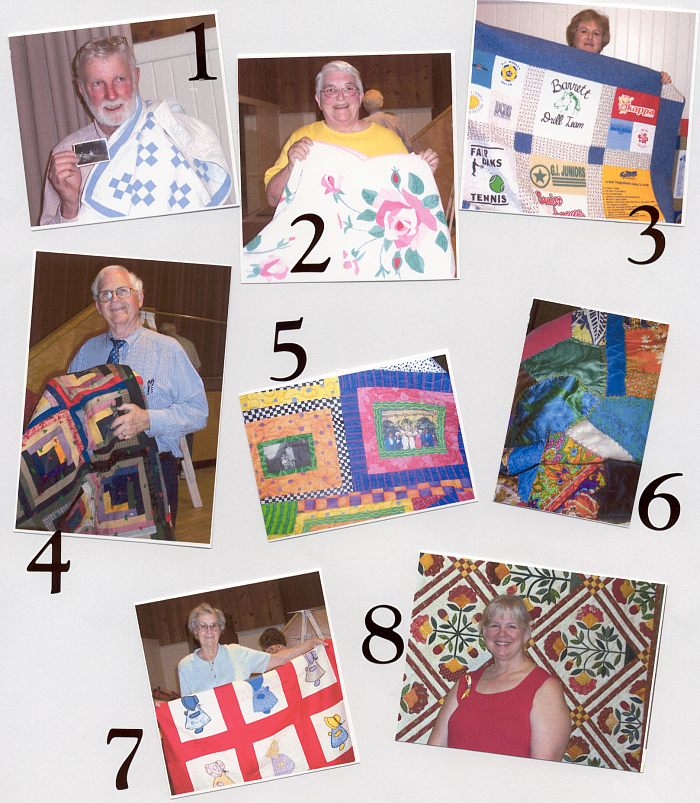 ---
Docents/Museum Curator Report:


FAIR OAKS FIESTA: MAY 1 and 2, 2004
The Historical Society had an exhibit in the Old Library Building on Fair Oaks Fiesta Days. It consisted of pictures, clothes, farm implements, cigar containers, and a set of San Juan High School Annuals dating back to 1922. Thanks to the following people for being docents: Fran Sargent, Charley Blatchford, Diana Lennon, Billy Hinsey, Lois Dawes, Marilyn Pearce, June Melvin, Larry and Meg Smart, Lois Frazier, Steve Abbott.
Many thanks to everyone who donated cookies for the Memorial Day Celebration on May 29 at the Fair Oaks Cemetery. Administrator Ray Young stated it was the largest attendance we ever had. Everyone enjoyed the music, speeches and refreshments.
Our History Center in the Administration building at the Fair Oaks Cemetery is open every 2nd Sunday of the month from 1:00 to 4:00 P.M. The following people have been docents this year: Fran Sargent, Lois Frazier, Larry and Meg Smart, Gordon and Joan Heidt, Roseanne Crandell, Billy Hinsey, Lois Dawes. Thanks very much!
On June 11th the Fair Oaks Grammar School closed forever after 106 years. The P. T. A. compiled a Memory Book. Our Society purchased one to be put in their time capsule which was buried just east of the Community Club House. The book will be returned to the Historical Society in 50 years.
If anyone would like to purchase a copy of our publication called "The Early Years" please call me. 967-2967. The cost is $10.00.
Compliments to Steve Abbott for his interesting display at the Fair Oaks Library for the month of June. He used historical tools for apple peeling, coring and slicing. Items were labeled and dated. Thank you, Steve!
| | |
| --- | --- |
| The Memorial Day Celebration in May. | |
---
History Project Coordinator:


History is a record of the past. If no one records what has happened, then there is no record.
The Fair Oaks Historical Society is now engaged in a record keeping project which will not only preserve our history locally, but make it available to anyone with access to a computer.
FOHS member Jim Pearce, a retired computer expert for the California State Personnel Board, has volunteered his technical expertise to lead a group of FOHS volunteers in this computer based project. Working with data already generated in written form, these volunteers, from the comfort of their own homes, merely type information (e.g. names and page numbers) into a file, then e-mail it to Jim. Once the file is scrutinized for errors, the file is then housed in a website available to anyone.
So far, our volunteers have made thousands of entries, and there are millions more to make. This is a never ending project. As long as someone is generating data and someone is entering it into the system, our history in all its many facits will be preserved.
If you are willing to spend a little time at home each month with your computer, please contact Steve Abbott at 631-8019 to volunteer. Come to the july meeting to meet Jim and hear him explain the details and scope of the project.
Historic Fair Oaks Water Map Preserved
Years ago, a large (6' x 4') tattered map of the early Fair Oaks Water system was given to a FOHS member. The map was dirty, torn scotch taped, a real mess. It had been prepared for an early Fair Oaks realtor, George Robinson, probably before 1920 and as early as 1910. The map was rolled up and placed in a closet for years.
About a year ago, the map was given to the History Society with the provision that it be restored. Fortunately, we had a grant from the county for preservation. More importantly, the Fair Oaks Irrigation District wanted this map preserved and was willing to underwrite the cost of conservation.
The map was taken to Northern California Art Conservators where it was cleaned, repaired, deacidified, matted, and framed. We should have it by July 19th. If so, we will have it at the July 26th meeting. Thereafter, and for some time to come, it will be on exhibit at the Irrigation District though we will maintain ownership.
Russ, our president, and Richard Pelcher of the FOWD signed an agreement for the display of the map. We will own the map and it will be displayed at the water district facility for an undetermined length of time. They contributed $2,000 toward the restoration and framing.
Membership:
Judy and Charley Blachford have requested a lifetime family mambership. A formal approval will be given at the July meeting. Our society now has a total membership of 140 with 210 voting members. We welcome Ollie Matthews, Sally & John Fisher plus David & Amelia Smith as new members.
Parliamentarian's Report:

At our July meeting a nominating committee will be elected to prepare a slate of officers for the October annual meeting. From the bylaws, "a. A nominating committee consisting of three (3) Active members, one of whom shall be a member of the executive board, shall be elected at the July general meeting. "
Past President's Message:

We are pleased to report that Murphy Productions, specializing in video presentations will be assisting the Fair Oaks Historical Society in producing a documentary of Fair Oaks History..... and we need your help. So... look through you albums and ask friends and relatives.
WANTED: Any photographs, tintypes, articles or movie footage depicting the scenes/life of Fair Oaks during the early years of the 20's, 30's and 40's. Please label all materials with the who-what-when and where on the items along with your name, address and phone number in an envelope and bring it to the Pot Luck meeting in July. Everything will be returned to you. For further information call 967-2967, 728-6653 or 631-4433.
| | |
| --- | --- |
| | |
---
FOHS NEWSLETTER EDITOR
8150 TOYON AVE.
FAIR OAKS CA 95628

&nbsp &nbsp &nbsp &nbsp &nbsp &nbsp &nbsp TO:
&nbsp

&nbsp
&nbsp
| | |
| --- | --- |
| Fair Oaks Historical Society Application | July 2004 |
NAME_________________________________
NEW/RENEWAL________________
ADDRESS_____________________________________
CITY_____________________
STATE______
ZIPCODE________________
PHONE________________________
Membership fees for the fiscal year 2004 include:
&nbsp

Dues are payable on
January 1 and shall
become delinquent
after that date.


Individual.............12.00
Family.................16.00
Supporting.............37.00
Single Life Member....150.00
Family Life Member....225.00

Amount enclosed $__________ for ______ number of persons.
Mail with check made out to

"Fair Oaks Historical Society"
P O BOX 2044, Fair Oaks, CA 95628
For more information call 916-967-2967 or 916-961-7174.