---
Old Fair Oaks - 1900
This map and the narrative below were reproduced by the Fair Oaks Historical Society as its Millennium Project in January, 2000. Only the first 100 copies were framed and accompanied by a numbered certificate. All the framed copies have been sold.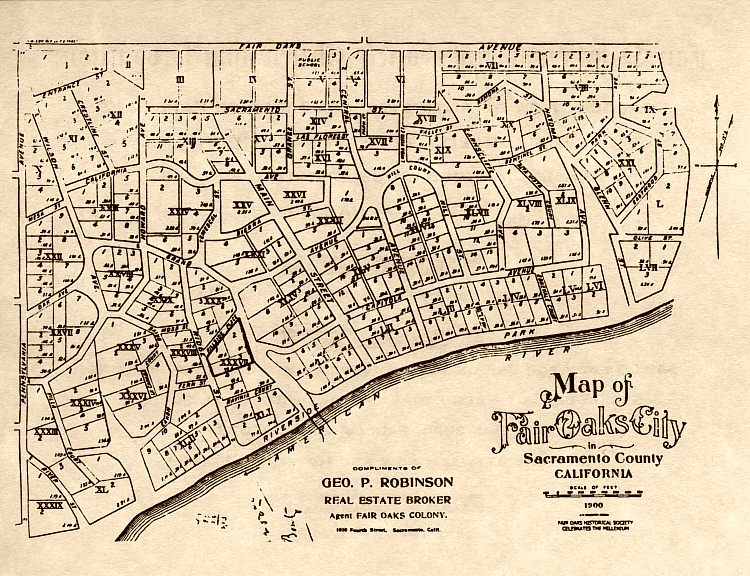 George Robinson came to the Sacramento area from Boston specifically to sell property in the Fair Oaks area. While he had an office on "J" Street in Sacramento, he also had a Fair Oaks office in the Murphy Building (northwest corner of Fair Oaks Blvd. and California Street), which is now (2000) occupied by Blue Eagle Antiques. Later, in association with Joseph H. Buffum in the firm of Robinson-Buffum, he moved into and perhaps built a building which occupied the approximate space of the present amphitheater. George built his home, which he nick-named "The Outlook," at the southeast corner of Fair Oaks Boulevard and Sunset. It was apparently so-named because from the rear of the second story, there was quite a view, including one which reached across the river. George apparently did well in the real estate department because he was able to send his son to the prestigious St. John's Military Academy in Delafield, Wisconsin.
This map was probably prepared by Stephen Kieffer, who not only had done the first survey of Fair Oaks in 1895, but who also was an officer of the Fair Oaks Development Company, with whom Robinson did business. Kieffer lived on the north side of Capitola between Main Street and Bridge Street. No bridge is shown on this map because one had not yet been built, but an agreement had been reached by the County Board of Supervisors to build one.
While the map generally conforms to the year 2000 Fair Oaks, some streets were never completed and some were not completed as shown. Two streets which may cause some confusion for the millennium residents of Fair Oaks are Howard and Wilson Avenues. These two streets were named for the owners of the promotional firm, the Howard- Wilson Publishing Company, which conceived, laid out and sold the first Fair Oaks property. They named streets after themselves. Howard Avenue was named for and by Civil War-General Charles Henry Howard, who it is thought named the town because of its resemblance to Fair Oaks, Virginia where his brother. General Oliver Otis Howard, had lost his right arm in battle. C.H. Howard's business partner and author James W. Wilson named Wilson Avenue for himself.
Originally, Howard Avenue started at the top of the hill north of Winding Way (above the present Fair Oaks Irrigation District) and continued south through town, past the intersection of Bridge Street and Fair Oaks Boulevard, then crossing current Sunrise Boulevard, and ending at the top of the hill at Pennsylvania. A major part of this street has become part of Fair Oaks Boulevard. The one-block section of Howard Avenue north of Winding Way has recently been named Old Winding Way, while the section south of Bridge Street and Fair Oaks Boulevard retains its original name. Wilson Avenue began at Howard Avenue and proceeded north on an angle and formed a "Y" at Pennsylvania and Winding Way. Sunrise Boulevard follows Wilson Avenue from the southern intersection of Howard to approximately California Street where Sunrise takes a more northerly curve. Thus the northern section of Wilson Avenue no longer exists.
Main Street was named Main Street because the developers laid it out that way. A crude hotel was built at the northeast corner of Capitola and Main Street. The early colonists spent a night or more in this hotel until they could buy land and build a place to live. So not only was there a hotel on Main Street, the first two general stores, the post office, the blacksmith shop, a combination building supplies (on Capitola near Main) and feed store were all on Main Street. Unfortunately, there was a serious hill on Main Street, which was difficult to climb by horse and wagon any time, let alone in the mud of winter. By 1902, Rebecca Murphy had built her famous "arts and crafts" style building (now hidden behind a stucco facade) at the northwest corner of Fair Oaks Blvd. (then Howard Avenue) and California Street. Almost immediately, this intersection became the center of commerce and remains so today.