---
Fair Oaks History Center

10340 Fair Oaks Blvd.
next to Sun Flower Drive-In
Open Saturday 10am-3pm, Tuesday and Thursday 10am to 2pm, or by special arrangement.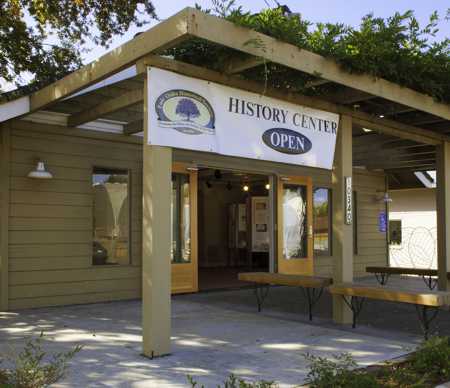 The first Fair Oaks History Center was created by the Fair Oaks Historical Society in 1980 in a conference room in the Fair Oaks Cemetery office building. In 2007 it moved to the Fireside Room in the Fair Oaks Community Clubhouse. The current Fair Oaks History Center, previously occupied by "Buddie's", a boutique woman's clothing store, was purchased by the Fair Oaks Water District as a possible future pumping site. Since the District had no immediate need for the site, they agreed in 2013 to lease the building to the Fair Oaks Historical Society for use as a history center.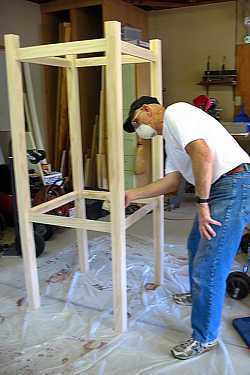 Volunteers from the Fair Oaks Historical Society rebuilt the interior and installed new carpets, lighting, landscaping, and enlarged a storage room. Disabled parking and access were created by the volunteers. New exterior benches were built by local artist Phil Evans.
With professional help, the Society built 11 storyboard displays as a permanent exhibit, chronicling Fair Oaks history from its establishment in 1895 to the Aerojet era of the 1950's and 1960's,including three new storyboards on the dredging and rock crushing operations south of the American River. In 2014 the Center added an interactive video unit to display many of our 800 historic photos, historical movie clips, oral histories and other materials on Fair Oaks History. The Center will have 6 month rotating exhibits to keep the material fresh and interesting. The current rotating exhibit is on early Fair Oaks womens clothing and hats.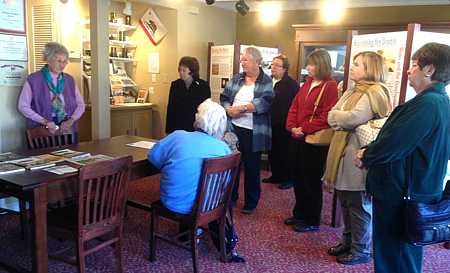 The Museum display cases house early Native American Maidu artifacts and historic relics from Fair Oaks homes and businesses. Displays are designed to be student friendly and classroom tours are available by appointment.
Various free materials are availible at the History Center including a brochure on the Historical Society, membership applications, and a Walking Tour brochure and map showing the location of notable historic buildings in the Village area. There is also a gift kiosk, selling Fair Oaks historical motif coffee cups, mousepads, books, videos and other merchandise.
The History Center is staffed by a knowledgable docent who is happy to answer any questions you may have and show you around the facility.
---